Imagine introducing a new championship after finally ditching an abhorrent butterfly tramp stamp belt, only to start a game of hot potato. Imagine "abandoning" the derogatory term 'Divas' in practice, only to continue to encourage it in the form of reality television.
Ladies, there's a revolution happening. But it seems to have fallen flat on its face. Throughout 2016, women were taking centre stage; two new Women's titles, talks of hypothetical Money in the Bank matches and a women's Classic tournament, the first women's Hell in a Cell match, and the second women's Iron Man match and Tables match.
Let's start with the stats. Graphic Designer Kate Foray's weekly Raw Breakdown Project shows that on Raw, 8% of air time has gone to women (from 4th April to 13th December 2016), failing to see past 16%. The 2nd of January 2017 Episode from Tampa Florida only sported an abysmal 5% of women's division air time, compared with 11% on SmackDown the same week. For a roster that's a lot deeper than it's given credit for, the numbers don't quite add up.
My argument is not that Sasha/Charlotte has gone on too long, like many others will propose. Lita and Trish Stratus fought on and off for six years, culminating in what has been critically acclaimed as the best women's rivalry in WWE history. In terms of longevity, WWE's most iconic feuds are those that Superstars could never escape, creating a character and relationship tension that felt nothing short of real. As for the little victories for women, there's Victoria and Lita in the first women's Steel Cage match. Fast forward to Bayley and Sasha at NXT Brooklyn. It all happened organically.
Publicity is everything in this business. Where WWE's main demographic of viewers are generally casual fans, they need promotion and encouragement to tune in. Hyper-inflating the stakes has been a theme of the last few years, and to the cynical eye, it can all come across as mindless hype for ratings.
Seven title changes between two women in eight months. When did Raw's major women's title become the reincarnation of the Hardcore Championship? Not only does this devalue the title, but it risks the credibility of the women who compete for it.
It's something that crosses my mind a lot – If we stop talking about these issues and treat them as normal, surely everything will fall into place and become 'the norm'? In a perfect world, yes, but history says otherwise.
Last year's WrestleMania featured two women's matches for the first time in 12 years. You only need to step back in time nine-or-so years ago, where the likes of the Bellas (among others) blatantly used their sexuality to get ahead.
Currently, we have Lana by Rusev's side, fondling herself in a satin robe on a prime time kid's variety show. Maryse stands idly by the Miz, although she's performed the manager role to a T since her return the night after Mania 32. I guess you could include protégé Dana Brooke in this count, given she can't seem to get a gig anywhere else. Carmella and James Ellsworth…. Really? And Alicia Fox? Arm candy, like so many before her.
So that's the ladies in secondary roles, but what about the ones backstage? Noami shot back at WWE for omitting her from the Total Divas graphic on an episode of SmackDown, but has since seen no suitable reparations. Ironic given the promising incline she was on immediately post-brand split. Guess this world's not fair to everyone.
Where's my pic tho https://t.co/gcotMHYQ7k

— Trinity Fatu (@NaomiWWE) December 7, 2016
This is largely our downfall as fans. We are quick to move on. We forget easily. Emma was a star in NXT, but we never gave her a chance on the main roster. Now she's reincarnated herself for the third time, and can't even secure a return on Raw. Eva Marie's outstanding potential as a heel, was near marred but outrageous misogyny.
"She sacrificed her journalistic integrity for dirty deeds with Dean Ambrose," the Miz belittled Renee Young on the 3rd January episode of SmackDown Live. Just quietly, I idolise Renee Paquette – as a broadcaster, as a journalist as a personality. She is a stand-alone entity. To see her reduced to the counterpart of a struggling Superstar, even if it's my favourite, quite honestly broke my heart.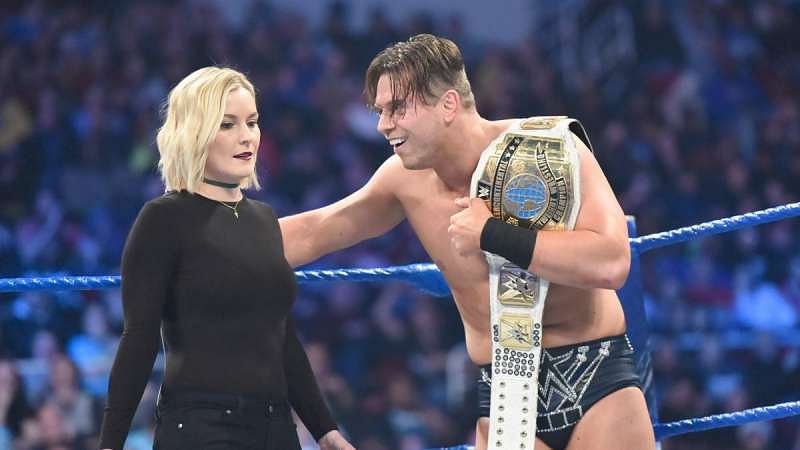 I admittedly indulge in an episode or ten of E! Network's Total Divas, which I find is a great metaphor of how I feel about the current display of femineity in WWE programming. The existence of Total Divas in itself, is a paradox, running parallel to the storied "Diva's Revolution", recently exploiting Paige controversy. Again, it's all about them ratings.
Some things are better kept in kayfabe. But I couldn't help feel enticed by the drama of SmackDown Live last week. It was engaging. It was simple. Heck, it was fresh. Fresh because we haven't been subjected to romance-related storylines for what has felt like some time, especially since the turn of the New Era in May of 2016. But 2017 seems to be bearing the flag early on for womanisers.
If this were the Attitude Era, Ambrose would have hit Maryse with a DDT in the centre of the ring to kick off the show. But instead, he copped a salty slap to the face and retorted with some sterling words, better than many have responded before him. Which makes me wonder, to what extent can and can't we condone violence against the opposite sex?
We can't go throwing women around and celebrating vulgarity like we did back in the day. But I've never been one to tolerate double standards. Why can a woman slap a man (or a woman) square in the face, and escape unscathed? If anything, it portrays women as catty and incapable of anything but school yard bitching about weight and sexual endeavours (see Natalya and Nikki Bella).
In the independents, women are beating men up every day. Candace La Rae, Sexy Star, and many more – The lost art of the intergender match, is not lost at all. It's being recrafted in a modern context, where men and women stand on a level playing field.
"it's not about your partner, it's about one of the most prestigious titles in WWE," Dean's character for all its flaws and ludicrousness, especially on the part of women, was salvaged in this crisp one liner by Mauro Ranallo. It's all about competition, being the best competitor at the highest level, male or female, is the premise of the New Era.
One thing's for sure, the back-tracking must stop NOW. Sexual stigmatisation is not the way of the New Era. Why can't women just be treated like the male Superstars, if they are in fact all one equal status by title?
It makes you think about the concept of masculinity and femininity in wrestling as a whole. It's a culture ingrained in the industry that segregates the sexes and even goes as far as to estrange those who act outside of the norms of these systems. Take Raw's Roadblock pay-per-view for example – I was up and screaming at the TV when Raw broadcast a still image of Sasha bleeding in black and white, to wash out the colour. The notion that PG does not allow blood is redundant after last year's SummerSlam, so what's the excuse? "Let them fight like the men!"
Unfortunately, it needs to be said to open the gates for change. But on the other hand, does this state how men are perceived? Pools of alpha males basking in bloodlust? Why is drama manifest in different bodies depending on which bodies are attached to it?
NXT is evidence that women can and do receive a relatively equal spotlight. No, not just the 'Four Horsewomen'. Right now. Same drama. Same stakes. The debate is the same in many sports and entertainment industries. Maybe there's just less girls out there wrestling. However, in no way should this mean a compromise of representation.
I'll be the first to admit that fans are impatient. We all like to think of ourselves as immaculate fantasy bookers. But the best stories are the ones that roll off the tongue, the ones that unravel naturally, the ones that connect with you on a the simplest of levels, and not because anyone tells you they have to. Healthy drama, outstanding athleticism, and thorough storytelling know no gender.