Hello and welcome to the New Japan Cup, a sixteen-man, single elimination tournament with the winner getting their choice of title shot out of the Heavyweight, Intercontinental and NEVER Openweight championships. Now, because this goes on for a while, we're going to do something a bit different to normal and just give you reviews of the tournament matches because you've got better things to do than read a full one of these every day, anyway, without further ado:
Results:
CHAOS (Chuckie T, Toru Yano, Hirooki Goto) def. Tomoyuki Oka, Shota Umino, & Tetsuhiro Yagi

Killer Elite Squad (Lance Archer & Davey Boy Smith Jr.)  def. Bullet Club (Tanga Loa & Bad Luck Fale)

Suzuki-gun (Zack Sabre Jr., TAKA Michinoku, Yoshinobu Kanemaru) defeated Los Ingobernables de Japon (BUSHI, SANADA, & Tetsuya Naito)

Suzuki-gun (Minoru Suzuki, Takashi Lizuka, Taichi) defeated Toa Henare, David Finlay, & Hiroshi Tanahashi

CHAOS (YOSHI-HASHI & Kazuchika Okada) def. Bullet Club? (Chase Owens & Kota Ibushi)
New Japan Cup First Round Match: Juice Robinson vs Yujiro Takahashi
I had never really had an incredibly high opinion of Takahashi, having never seen a particularly compelling reason for him to be there beyond to take the pin, in many ways, I thought of him as Bullet Club's YOSHI-HASHI. Much like Juice Robinson in his post-match interview, I sure was wrong about Takahashi, not only did he deliver his best singles match but he gave Juice his first great singles match of the year (admittedly, only his fifth so far but let's ignore that). Admittedly, structurally, this wasn't so much a match at times as repeated set-ups for a fisherman driver but it worked well from Juice's superb abilities to create sympathy and sell his insane tights off but also Yujiro's pulling from the heel playbook, hitting every dirty trick he could think of including an extended and quite brutal brawl around the arena and a very convincing near-fall off a low blow. If anything, I would say perhaps the match made Juice work from underneath too much but it did help his comeback all the more surprising as he seemed to hit the Pulp Friction swinging facebuster from practically nowhere. For what it was though, a very enjoyable match.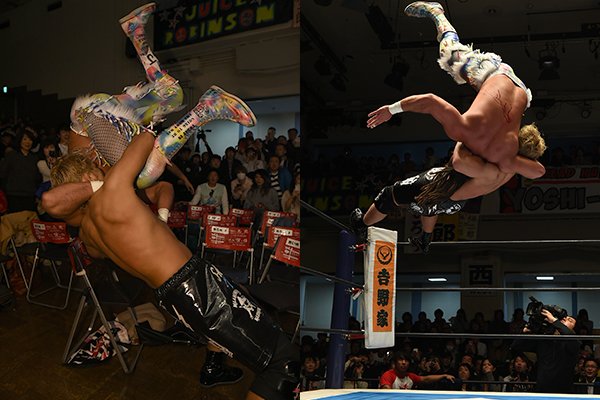 Winner: Juice Robinson
New Japan Cup First Round Match: Tomohiro Ishii vs Michael Elgin
It should be said, I used to love Michael Elgin but revelations about him behind-the-scenes of his wrestling company have soured him to the point where I'm not sure if he really qualifies even for 'problematic fave' status any more. One of the hardest things about going off Michael Elgin is that even if he's not a very nice person all things considered, he's still an annoyingly great performer. This was a big, hard-hitting affair as Big Mike and the Stone Pitbull, in his ninth New Japan Cup, seemed to throw everything they had at each other. The two men's styles fit so perfectly with each other with this 29 minute epic having practically everything you could want out of a New Japan big match, especially down the home-stretch where the action, and the near-falls, came thick and fast. It must be said, even if the match was never dull and even if it had the story to back it up, near 30 minutes here did feel a little excessive, especially as it seemed to lock into one style and stay there. Luckily for this, as much as Elgin can pull out the goods when necessary, he had a dance partner like Ishii, a man who legitimately might be the greatest in-ring performer of the 2000s and someone who can throw in power moves, can throw vicious chops but can also bust out a surprise hurricanrana and most importantly, can bump like a motherf-er. Even in loss, Ishii was made to look like a monster, kicking out of Elgin Bombs, Super Elgin Bombs and forcing Elgin to hit a Burning Hammer in order to eke a win. This was a war, pure and simple, there was no emotional reasoning behind what happened other than both men wanted to win. Ishii, I still hope your day will come, maybe next year it'll be lucky number ten, Elgin, I just can't quit you.
Winner: Michael Elgin