Hello and welcome back to the New Japan Cup. So here we are in the quarter finals, with some of the best in the world, and Michael Elgin, still left in the tournament, what would happen as we head into the second round of the New Japan Cup? Let's find out:
Results:
Suzuki-Gun (El Desperado & Yoshinobu Kanemaru) def. Tetsuhiro Yagi & Ryusuke Taguchi
David Finlay, Toa Henare, & Ren Narita def. Shota Umino, Tomoyuki Oka, & Yuji Nagata
Killer Elite Squad (Lance Archer & Davey Boy Smith Jr.) def. Bullet Club  (Tanga Loa & Yujiro Tahahashi)
Chase Owens & Kota Ibushi def. Suzuki-Gun (Taka Michinoku & Zack Sabre Jr.)
CHAOS (Tomohiro Ishii, Toru Yano, & Chuckie T) def. Los Ingobernables de Japon (BUSHI, SANADA, & Tetsuya Naito)
CHAOS (Kazuchika Okada, YOSHI-HASHI &  Hirooki Goto) def. Suzuki-Gun (Minoru Suzuki, Taichi & Takashi Iizuka)
New Japan Cup Quarter Final: Michael Elgin vs Juice Robinson
I've made it very clear I think that I think Elgin is a man whose incredible in-ring skill is tarnished by allegations of him being a shoot dickhead. Luckily for me, no allegations have been linked to Juice Robinson so I am free to continue to enjoy his work while Elgin played the heel here allowing me to channel my hate towards him positively. Despite Elgin's soul being made of compost and sulphur, he put on a good contest with Juice working that G1 sprint-style as the contest was kept simple with Juice being manhandled by Big Mike but still keeping in just enough to make it competitive. The major quibble I have with this contest is the use of the surprise cradle pin out of Elgin's sitout powerbomb for the finish as while well executed, it was essentially the same story as when Juice defeated Kenny Omega last year but not quite as effective. Though with Juice through to the semi-finals, I can't really complain.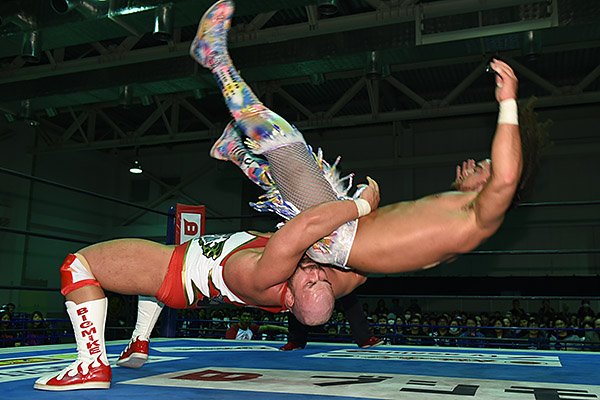 Winner: Juice Robinson
New Japan Cup Quarter Final: Bad Luck Fale vs Hiroshi Tanahashi
If you were expecting a Match of the Year candidate here, you were probably wrong to expect so. Tanahashi is still, and always will be, The Ace and Fale is a traditional Super Heavyweight-style wrestler but has been known to put on fun matches with the right opponent but he does still strongly rely on a combustible force against him to bring out the best. Luckily for him, as I've said, even one good arm and no good knees Tanahashi is the best. They worked a slight, entertaining match playing off not only Tana's injuries but Fale's impressive stature as they built up to some great spots like Tana hitting an impressive German suplex and Fale doing all the variations on 'batter him on the outside' he could think of. The finish came as the two brawled on the outside but Tana managed to backdrop Fale over a crowd barrier and slide in just before the count, leaving Fale outside for the countout victory. It made sense having Tanahashi play the underdog and the veteran considering his physical state and the ending doesn't make Fale look any worse as he wasn't pinned or submitted. It wasn't amazing, but it was good and it sets up a far more intriguing match-up in Juice-Tana than Juice-Fale might have been.
Winner: Hiroshi Tanahashi
With Juice v Tana now confirmed for the first semi-final on the 16th, join us tomorrow for coverage of Kota Ibushi vs Zack Sabre Jr. and Toru Yano vs SANADA.