Hello and welcome back to the New Japan Cup Quarter Finals. After yesterday we found our first two quarter-finalists, today we find out who's joining them in debatably the more open side of the bracket as any of Ibushi, SANADA, Sabre Jr. or Yano could be through to the next round. But let's find out who made it:
Results:
David Finlay & Ren Narita def. Tomoyuki Oka & Shota Umino
CHAOS (Hirooki Goto & YOSHI-HASHI) def. Togi Makabe & Toa Henare
Suzuki-Gun (Taichi, Lance Archer, Davey Boy Smith Jr. & Takashi Lizuka) def. Bullet Club  (Bad Luck Fale, Chase Owens, Tanga Loa & Yujiro Tahahashi)
Suzuki-Gun (Minoru Suzuki, El Desperado & Takashi Lizuka) def. Los Ingobernables de Japon (Tetsuya Naito, Hiromu Takahashi & BUSHI)
Taguchi Japan (Hiroshi Tanahashi, Juice Robinson & Michael Elgin) CHAOS (Kazuchika Okada, Tomohiro Ishii & Chuckie T)
New Japan Cup Quarter Final: Toru Yano vs SANADA
After last round's surprise, not that Yano won but that the match went on for ten-plus minutes, this was back to the Yano classic but frankly, there's a reason that the classics work. Yano was his typical charming master thief self and SANADA played the straight man well, not taking any of Yano's shit and in fact, trying to go dirty trick-for-trick with Yano. This was a slight affair, clocking in at less than seven minutes but Yano still managed to make SANADA look incredible while still keeping the crowd on his side. SANADA would win via submission, locking in the Skull End sleeper, before post-match wrapping Yano, the referee and a young lion up in a ball like the crazy Milano Collection AT II he is.
Winner: SANADA
New Japan Cup Quarter Final: Kota Ibushi vs Zack Sabre Jr.
There was part of me that thought 'could this tournament get better than Sabre Jr. vs Naito?', it turns out it could. It helps that once again, Sabre was working with a person who could match him in performance levels but much like his match against Naito, this match managed to recall the confrontation these two had during last year's G1 Climax while also completely topping it. What is so brilliant about two performers like this is they bring complete conviction to everything they do, grounding his performance in some almost uncomfortably stiff strikes, Ibushi makes it such that you almost believe that a standing moonsault is an applicable real-world combat manoeuvre while Sabre's constantly shifting submissions work, exploiting any weaknesses he can find and if he can't find any, making some. After his wild brawl around the arena with YOSHI-HASHI, seeing Ibushi compete in a match that saw him barely even approach the second rope let alone moonsault off a balcony really helped focus in his babyface performance style and showcased his exceptional facial acting. The finish came as Sabre had Ibushi locked in a grounded submission he was unable to escape, forcing Red Shoes to call for a stoppage. A smart, clean match with no finisher kickouts, very few bells or whistles, just damn good work. Go out of your way to see this.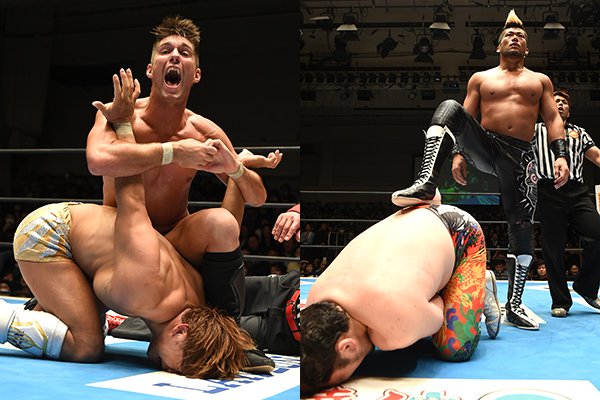 Winner: Zack Sabre Jr.
With another successful day behind us, join us tomorrow for coverage of the first of the Semi-Finals as Hiroshi Tanahashi takes on his Taguchi Japan stablemate, Juice Robinson