New Japan returns to the US for Strong Style Evolved. Last time that NJPW came to the US, they brought with them a tournament to crown the first-ever IWGP United States Champion, this time they're here with a dream main event in the form of Omega and Kota Ibushi, Golden Lovers vs Matt & Nick Jackson, The Young Bucks:
SoCal Uncensored (Frankie Kazarian, Christopher Daniels & Scorpio Skye) vs Roppongi 3K (Sho,Yoh & Rocky Romero)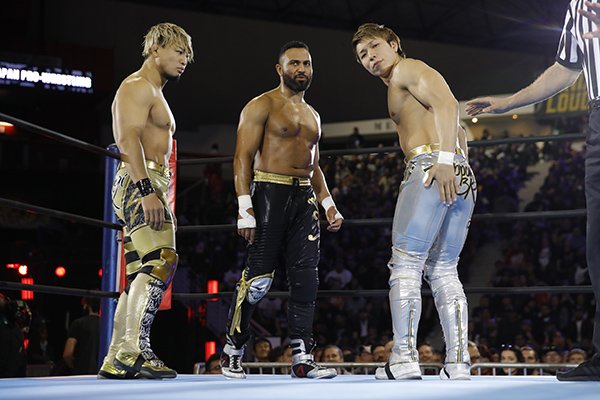 Heat segment on Yoh, Kazarian looks to have hurt his knee on a botched springboard move. Breaks down into some nice back and forth action.  Sho and Yoh hit 3K for the win.  A decent opener with the fast-paced multi-man action that you would want
Winners: Roppongi 3K Rating: 4 out of 10
Juice Robinson & David Finlay Jr vs CHAOS (Gedo & Hirooki Goto)
Goto and Robinson with good grappling and trading shoulder tackles. Trade clotheslines, reversals. Goto cleaning house. Heat segment on Juice. Juice fires off jabs to Gedo, and hot tag to Finlay. Fires up with running uppercuts to the corners. Juice/goto trade again as we get a preview for the inevitable NEVER title match between the two. Finlay wins with a stunner on Gedo. Keep an eye on Finlay who is starting to pick up some pins.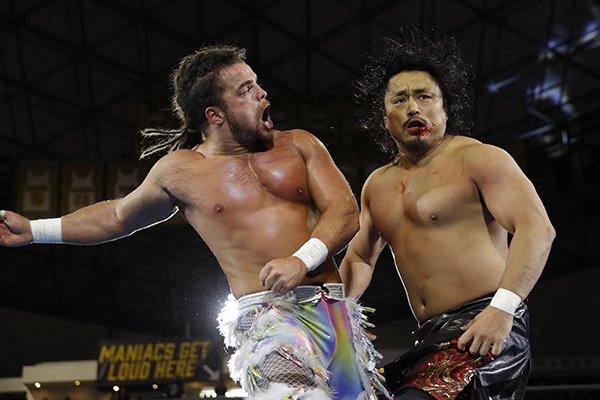 Winners: David Finlay Jr & Juice Robinson Rating: 4 out of 10
Killer Elite Squad (Lance Archer & Davey Boy Smith Jr) vs Toru Yano & Chuckie T
What else were you expecting? Long heat segment on Chuckie. Funny bit where Archer keeps scaring Yano away. Yano is the MVP of the match once he gets in it, this heats up. His comedy is really over with the US crowd. Chuck is the main attacking part of the team but Yano is the star including when he fakes out on a dive to rip the turnbuckle pad off to a big pop. KES win with the Killer Elite Bomb. Another win for KES who continue to get built up superbly.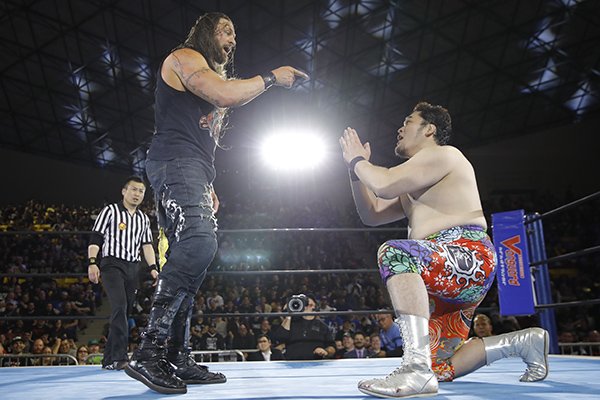 Winners: Killer Elite Squad Rating: 6 out of 10
Bullet Club(Cody & Marty Scurll) vs Guerillas Of Destiny (Tama Tonga & Tonga Loa)
I hate Cody. I hate him even more because he came out with Scurll denying us the chance to hear Scurll's jam of an entrance.  He cut a weasely promo beforehand trying to say that GoD were team Cody.  Tanga Loa made it clear they are NOT team Cody.  The match was basically GoD beating Cody up with Scurll saving Cody each time.  Cody got the win by running GoD into one another and hitting Cross Rhodes on Loa.  Superb heeling from Cody all match with the satisfying result of seeing him get beat up.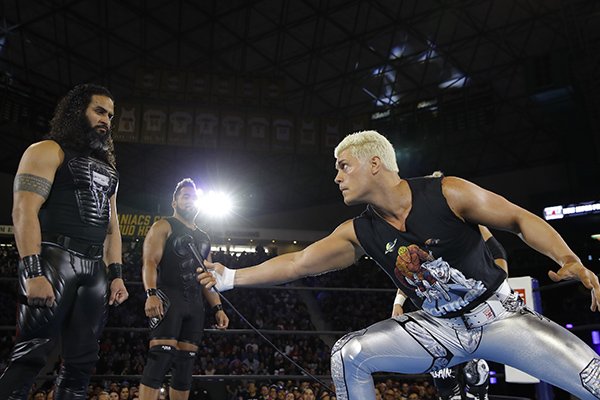 Winners: Team Cody Rating: 5 out of 10
Taguchi Japan (Ryusuke Taguchi, Hiroshi Tanahashi, Dragon Lee & KUSHIDA) vs. Los Ingobernables de Japon (Tetsuya Naito, BUSHI, SANADA & Hiromu Takahashi)
This was your typical LIJ multi-man match.  Tanahashi and Naito riled the crowd up with their star power.  SANADA looked badass with his Skull Ends. Taguchi captained his side like a baseball coach.  Takahashi and Lee slapped the shit out of each other for a minute.  Naito got the win over Taguchi with Destino.
Winners: Los Ingobernables De Japon Rating: 5 out of 10
Will Ospreay vs Jyushin Thunder Liger
Liger uses his experience and technical prowess to ground Ospreay and beat on him.  Liger runs through his best hits with Ospreay making everything look good.  Ospreay got back into it and ran through his signature offense.  He hits the Sasuke Special, the running Shooting Star Press, and a Spanish Fly as he works up to the OsCutter.  Liger reverses the attempt into a brainbuster.  They are up top and Liger hits a Brainbuster onto the top rope for a great near fall.  Ospreay counters a Shotei into a powerbomb, kick combination and the OsCutter for 3.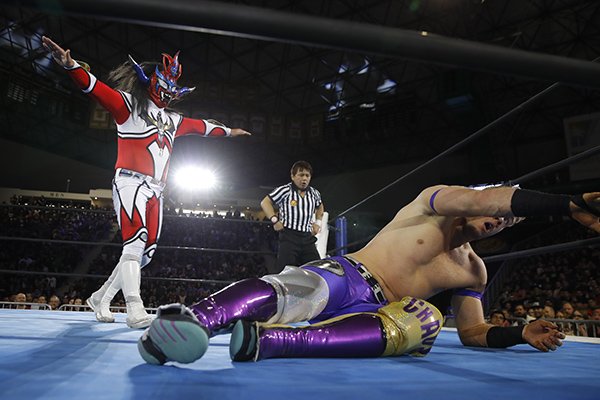 Winner Will Ospreay Rating: 6 out of 10
Post Match: Ospreay calls out Rey Mysterio for a match whenever Mysterio is recovered.  Marty Scurll sneaks in and cracks Ospreay in the back with an umbrella.  Mysterio tries to help but Scurll snatches his mask off.  Liger runs Scurll off and we have a moment between Liger and Mysterio.
Suzuki Gun(Minoru Suzuki& Zack Sabre Jr.) vs CHAOS (Kazuchika Okada & Tomohiro Ishii)
Good grappling to start with ZSJ reversing some of Okada's signature spots.  The stars of the match though were Ishii and Suzuki.  They went in there and Strong Styled each other trading sick strikes.  Whenever those two were in the ring the action ramped up to 10.  Okada and ZSJ continued to tell the story of their match at Sakura Genesis with ZSJ looking very strong in this match.  ZSJ got the win by making Ishii submit to Orienteering with Napalm Death.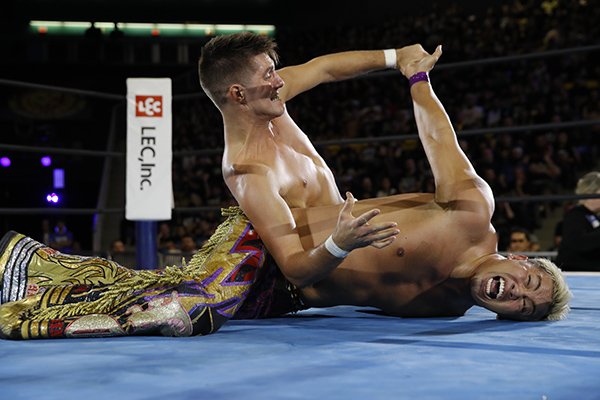 Winners: Suzuki Gun Rating: 7 out of 10
IWGP US Championship Match- (C) Jay White vs Adam Page
This match was a bit of a letdown.  Jay White is a fantastic promo guy but in-ring, he is very basic.  Adam Page worked his ass off and hit some great moves but that wasn't enough to overcome a bad Jay White performance.  It may be the fact that it was almost 4 a:m when I watched this but I really didn't like this.  The wrestling was clean but there was no juice to this.
Winner: Jay White Rating: 5 out of 10
David Finlay attacks White laying him out. Finlay says they aren't done yet and challenges him to a US title match on April 24th.  I said earlier that Finlay had been gaining momentum and in New Japan, that is very meaningful.
Main Event- Golden Lovers (Kenny Omega & Kota Ibushi) vs Young Bucks (Matt & Nick Jackson)
This was a masterpiece.  Omega and Nick being hesitant at first really fit the storyline.  Matt and Ibushi are the main aggressors.  While working over Ibushi we see the Bucks argue over introducing a table.     Ibushi tries to fight off the Bucks and eventually makes the hot tag to Omega.  The tide turns to the Lovers as they start working over Matt's still injured back.  While working over the back Omega and the Bucks have some amazing interaction.  Omega doesn't want to do this but at the same time drops Matt onto the apron with no remorse.  He has clearly been torn all match with Ibushi calling the shots.  Matt gets the hot tag to a fired up Nick.  Both teams trade moves and continue spoiling each other's big move attempts.  We have a table set up by an angry Nick who wants Matt to put Omega through it.  He is obviously hesitant.  He decides to do it anyway but Ibushi is there to cut him off.  This gives Omega the chance to set up a One Winged Angel through the table.  Matt fights him off desperately but Ibushi comes out of nowhere to hit an elevated German Suplex.  Ibushi wants Omega to hit a V-Trigger, but Omega stops halfway through his taunt.  Ibushi goes and makes Omega finish the taunt and fires him up.  Omega hits the V-Trigger.  Matt locks in the Sharpshooter and Nick hits a Tornado DDT to the floor on Omega.  This is a move that has put away many a team lately.  Unfortunately for Matt, his back gives out.  Like lightning, Nick knocks Omega onto the table and Matt puts him through it with an elbow drop.  We get both teams attempting some moves and being cut off with superkicks.  Matt takes off his weight belt and hits Omega with it a few times.  Omega refuses to use the same belt on Matt when he gets the chance.  Instead, Omega hits some kicks but gets cut off with a desperation spear.  The bucks go for a Meltzer Driver but Nick has to help poor Matt pick up Omega.  Ibushi cuts Nick off and powerbombs him through a table at ringside.  The Lovers hit an Indie Taker for a Very very close 2 count.  Omega on Ibushi continue to try and put Matt away but he just keeps kicking out.  Omega can't bring himself to hit the One Winged Angle on Matt but Matt begs him to do it, almost to put his back out of misery, Omega hits it but Nick makes the save at 2.99.  Nick is properly pissed at Omega now.  He tries to get his brother up but Matt is out cold.  Nick shows no fear and tries to fight off the Lovers but he gets hit by a running V-Trigger and the Golden Trigger puts him away.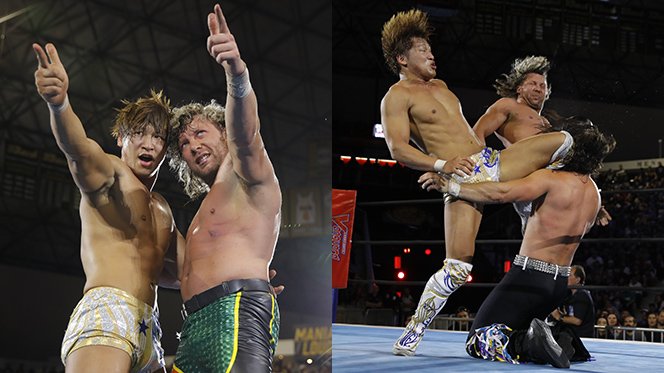 Winner: Golden Lovers win Rating: 10 out of 10
Post Match; After the war Omega shows worry for his friends.  Cody comes out and gets in the face of the Bucks.  Cody like Kenny before him pushes one of the Bucks to the ground.  Matt gets in his face about it and Cody looks set to attack but Omega is back to make the save.  Omega offers his fellow Elite members a handshake and while Nick accepts, Matt does not.  We have a conflicted Omega, an evil Cody and a fracturing Young Bucks to end this rollercoaster ride.
https://twitter.com/totaldivaseps/status/978100381451538432?ref_src=twsrc%5Etfw
During the show, NJPW announced they will be back in the USA on July 7 for the return of the G1 Special. It will be held at the Cow Palace in San Francisco, California. The building can hold around 13,000 fans, depending on the seating arrangement. Last year's G1 Specials had around 2,300 fans at each show.