One of the early standouts of 2018, so far, has been the Mixed Match Challenge. Hosted every Tuesday night following Smackdown LIVE, the show sees RAW and SmackDown Live stars go head to head in mixed tag-team action and what a success it has been. With teams including Alexa Bliss & Braun Strowman, Charlotte & Bobby Roode, and Asuka & The Miz, the Mixed Match challenge has gone down extremely well. Matches have been strong, the booking has made sense and the entertainment factor has been very high, but what its also has done is re-introduce the conversation of intergender matches in the WWE. While the rules of the Mixed Match challenge clearly state that the male opponents face the male opponents and the women face the women we have seen little spots here and there between a male and female superstars that have had the crowd hot. Now, of course, the WWE is a long way away from bringing back intergender matches but the door has been well and truly re-opened. There will always be a discussion on the ethics surrounding intergender competition but if the Mixed Match challenge has shown anything, it is that it can work.
The past few months have allowed talent to show just how well male and female superstars can work together, as long as the pairing is right and the booking makes sense. I do believe that the Mixed Match Challenge is a brilliant starting point. It has already set up pairings that work perfectly and stories the WWE can go on. New alliances such as Mandy Rose and Goldust make for an excellent duo. Their pairing, in particular, is something that both superstars can benefit greatly from. The story of teacher/student is evident. Mandy can learn so much from Goldust and a rather typical storyline would result in Rose turning on Goldie at some point. Many will argue that a man of Goldust size facing off against Mandy Rose is ludicrous but can't deny that it makes sense. Giving a female superstar the opportunity to show her growth as the student taking out the teacher is a story that does work but again it is the conversation of ethics that pops up despite several other promotions making this work. Now, regardless of those points, it's clear the Mixed Match Challenge has opened doors or at least a conversation in regard to intergender matches.
Intergender matches are something that on the independent scene isn't foreign. The British Scene as well as promotions such as Lucha Underground, and Impact Wrestling continue to showcase matches that see male and female talent face off against one another. As we previously touched on earlier, the Mixed Match challenge has opened plenty of doors for the conversation regarding intergender matches and other examples of mixed tag team action outside the WWE does raise the question – Why exactly aren't men and women allowed to go one on one? Let's take a look at one of my favourite mixed tag team matches of all time as an example; the then WCPW presented a brilliant contest between Will Ospreay & Bea Priestly and Ricochet & Tessa Blanchard. Taking place in January of 2017, the match was a prime example of how well intergender matches can go down. Not for a second were fans led to believe the female talent was any weaker or less capable in this contest, several spots allowed Bea and Tessa to show they can do exactly what their tag team partners were capable of doing and the fans in attendance loved it. Sure, some spots did look more barbaric but everyone felt very equal and this has been the case for other mixed tag team matches the promotion has held.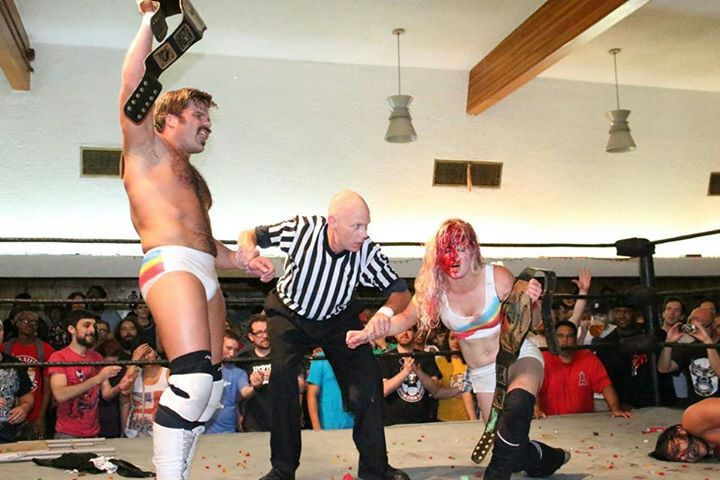 Examples of brilliantly done intergender matches continue. Ricochet and Tessa Blanchard have competed in a fantastic contests (including for Beyond Wrestling, a match available on YouTube) on the independent scene while the likes of Candice Le'Rae have made a name of doing so. However, focusing on promotions alone Lucha Underground is a prime example of how intergender matches should be done and what's so great about this particular show is these matches are booked as normal matches. Intergender competition is apart of Lucha Underground. It isn't pushed as something different or a special kind of match. It's something we see almost on a weekly basis and they are forever showing that in modern day it can be a success. What Lucha Underground has shown is how normal these matches are. The likes of Sexy Star, Taya, and Ivelisse have faced off against some of the biggest and baddest male names on the roster and stepped up. Take Taya vs. Cage as yet another prime example, towering over Taya and a huge weight advantage didn't mean Cage took home the victory in seconds, instead what we got was a convincing contest between two brilliant in-ring performers. Lucha Underground will always be seen as controversial but what it is also is doing is showing what is possible and the direction mainstream wrestling like the WWE should be going in and a possible next step in the women's revolution.
When the Mixed Match Challenge was announced, many of us thought we would finally be able to see a man and a woman square off in a ring. It was not the case. When Becky Lynch vs. James Ellsworth was announced to be aired on SmackDown Live last November, we already had hope WWE would cross that line. It was not the case again. This match was not serious and promoted as a Battle of the Sexes where Ellsworth's manliness was more in jeopardy than Becky Lynch's reputation. As long as the names WWE and PG Era will be attached, intergender matches are not expected to happen anytime soon. Even if WWE wrestlers like Ruby Riott and Candice LeRae are famous for their intergender matches and Tamina, Nia Jax or Becky Lynch would perfectly fit the mould.
WWE has a history of intergender matches. Before Lynch vs. Ellsworth last year, the last one that aired was Jacqueline vs. Chavo Guerrero Jr. Many think it was Vince McMahon vs. his own daughter in an I Quit match at No Mercy 2003, during the Attitude and the Ruthless Aggression Eras, it was common to watch that kind of matches. Madusa, Jacqueline, Jazz and Chyna showed the way in WCW and then WWF. In a ratings war era, if ECW or WCW were trying something, WWF would try to outbid what their rivals were doing.
Madusa had her first "Man vs. Woman" match in 1996 in WCW, against Colonel Robert Parker, and wrestled a few other in her years in WCW. But her feud with Evan Karagias in 1999 for the Cruiserweight Championship stood out. In ECW, Jazz had no choice but to wrestle men in a promotion with no real women's division. But only a few men of ECW roster were ready to do it and Jazz only had feuds with Simon Diamond and Jason. But when she was brought into WWF, she became Hardcore Champion, defeating Bubba Ray Dudley in 2002.
The best example of intergender success is the Ninth Wonder of the World, Chyna. As the enforcer for D-X, she had already no issues beating up a wrestler to ensure her boys would win. When She started to wrestle on her own, she became the first woman to compete in the Royal Rumble in 1999 and even eliminated Mark Henry. She took part in the King of the Ring tournament the same year. Her feud with Jeff Jarrett may have been based on misogyny but she took the Intercontinental Championship away from him at Rebellion 1999. When Chris Jericho challenged Chyna for the title at Survivor Series 1999, their match, and the entire feud, was respectful. A male wrestler and a female wrestler squared off and did it right.
After that, Lita, Trish Stratus and Molly Holly were involved in brief feuds with men. But none reached the level of what Chyna did before. Because to have a good intergender match, you also need men that are not afraid to fight a woman. Chavo Guerrero Jr. was a pioneer in WCW and continued in WWE. Jacqueline became the third female Cruiserweight Champion in 2004, after Madusa and Daffney in WCW, by defeating Guerrero. Jacqueline was the master of the game, creating the rules of a notable and respectful feud.
In the years after that, intergender wrestling in the WWE was rarely treated as anything but a joke. Santino Marella's matches against Divas were laughable moments, to the point of dressing as a woman to compete with them. Until Becky vs. Ellsworth, nothing happened in WWE when Lucha Underground or the indy scene were making intergender something amazing.
James Ellsworth capitalized on this moment after he was released by WWE, he created the World Intergender Championship and has opened challenges to any man or woman for it. As of now, no one has answered his challenge. Does it mean there's no place for this kind of Championship in the business? Probably yes. If women can fight men, they should obviously win male titles, like Jacqueline or Chyna did before. Intergender is nothing more than respect between two warriors, regardless of gender. Women can do everything after all, even be the protagonists of their own stories to the point of making the fans love to see them fight men.
Intergender matches are becoming more common in the WWE with the Mixed Match Challenge and the high profile recently announced Triple H and Stephanie McMahon teaming up against Kurt Angle and Ronda Rousey at WrestleMania, but what exactly does this mean for wrestling in the future? As we've already seen in this article, the Mixed Match Challenge has got the WWE Universe talking about intergender matches again.
In today's equality-focused society, intergender matches can be seen as a step-up in the womens revolution, further elevating the female superstars' status by having them compete alongside their more well-known male counterparts. Most of you reading this would already be familiar with the majority of, if not all, the female superstars in the WWE, however, to those with only a fleeting interest in the world of sports entertainment, ask them about female superstars and they may be able to name one or two at most, take the case where I asked a friend who occasionally pays attention to WWE to name some superstars (male or female) and they listed the usual suspects of The Rock, Steve Austin, Undertaker, John Cena and Finn Balor (in all fairness, the Balor one may be as they have to put up with me gushing about the Irishman), when pushed on female superstars, couldn't name any. I think that if the WWE continue with pushing the intergender matches, then we could see the commercial status of the female superstars reach new heights.
Where the Mixed Match Challenge is a good idea (and helps support some great causes), it doesn't quite reach the widest audience it could. Looking at the Wrestlemania mixed tag team match, we have the opportunity to reach more people, however with Wrestlemania being a PPV and the Mixed Match Challenge being available on Facebook Watch and then also on the WWE Network, both really just tend to reach the current WWE Universe members.
So how can this change? Well with the broadcasting of RAW and Smackdown on major channels like Sky Sports, the set-up of a league or title on either or both of those shows for mixed matches can create more of a buzz, both within and outside of the WWE Universe. It would also pave the way for some more creative storylines and can make use of some of those superstars who are sort of in limbo with no real aim aside from filling the gaps on the programs.