WrestleMania Weekend isn't just about WWE. These days, practically half the wrestling world descends on whatever that annum's anointed location is for a week of fun, festivities and Frankensteiners. We here at SteelChair like to present a full picture of what you can expect in NOLA over this year's Weekend, giving you a guide to the other events you won't want to miss.
EVOLVE
WWN, and specifically, EVOLVE might be set to steal the entire weekend with one match, a match so mouthwatering it might actually be the dictionary definition of Dream Match: At EVOLVE 102, Ringkampf, WALTER and Timothy Thatcher, are taking on Daisuke Sekimoto & Munenori Sawa. WALTER has faced Sekimoto before in wXw, in matches that put that company on the map, but Sawa is an important name in the history of EVOLVE having performed at the very first show. He's also someone who's followed a similar path to Thatcher. This is what competition is based around; four competitors who share a similar philosophy where the only thing that matters in the ring is that you carry yourself and bring to your performance, the utmost respect for the ring. Expect a clinic, expect thunderous chops and expect big, manly tears to be shed.
This is just the tip of the EVOLVE Iceberg take over in the Pontchartrain Center as we have title action in the form of a tag-team scramble. Zack Sabre Jr. putting his EVOLVE Championship on the line against Matt Riddle. Travis Banks taking his tag rivalry with Chris Dickinson into singles action. And expect some high-class flip-de-doos from AR Fox & Will Ospreay.
GCW: Matt Riddle's Bloodsport
When the dust settles from this year's Mania, don't be surprised if there are two shows that everyone asks were you there? I am not talking about WrestleMania and TakeOver, but Matt Riddle's Bloodsport and Joey Janella's Spring Break II. Bloodsport is part of the current shoot-style revival as all matches with be contested with limited rope-breaks and victory only by knockout or submission.
This is a show with a serious shooting pedigree, with title-star Riddle taking on noted 'accidental' in-ring shooter Low-Ki. Chris Dickinson vs Dan 'The Beast' Severn. Eddie Kingston vs 'Hot Sauce' Tracy Williams. And a fascinating pair of philosophy clashes, as two of strong style's most committed performers in Martin Stone and Timothy Thatcher will take on two of CZW's bloodiest men in Masada and Nick 'F'n' Gage respectively. Expect greatness, expect violence, expect rear naked chokes.
GCW: Joey Janella's Spring Break II
From the sublime to the ridiculous, Janella's Spring Break. The craziest show of the year returns and it is bigger and weirder than ever.  Joey Janela is a crazy mastermind that gives us dream matches we never knew we wanted. The CLUSTERF&$k will live up to its name.  An all-surprise-entrant battle royal. Last year's had The Invisible Man, Dink the Clown and Glacier. Expect anything and everything. Matt Riddle vs James Ellsworth.  Potentially the match of the century. 
CHIKARA owner Mike Quackenbush will make a rare appearance outside of his own promotion to put on a technical masterclass with one of the best technical wrestlers right now, David Starr. There's WALTER vs Pierre Carl Ouellet, and Nick Gage vs Penta El 0M. Someone might die in that one, with deathmatch royalty taking on the baddest man in Mexico.  This will be brawling/hardcore heaven. Finally, Joey Janela vs. The Great Sasuke.  The names alone speak for themselves.  Two of the biggest daredevils wrestling has ever seen.  Sasuke was an early innovator of the high spot style we see today and has taken some crazy bumps in his career.  The same can be said for Janela who is famous for some of the roof bumps he has taken in CZW.  If both men don't jump off the roof at least three times I would be very surprised.
Other WWN Events
But that's not all. There's also the WWN Supershow where Sekimoto will face WWN Champion Keith Lee. Sabre vs Sawa. Lufisto vs Holidead & yet more tag action from Ringkampf as they challenge Dickinson & Jaka (for the EVOLVE tag titles if they still have them). There's the Style Battle finale with Nick Gage taking on Keith Lee, and Matt Riddle taking on OvE's Dave Crist in round one, and there's a Kaiju Big Battel special. PROGRESS have two events over the weekend but with no match-ups announced – beyond a potential Thunderbastard match – this is an exciting mystery.
There's SHIMMER 100 with Nicole Savoy vs Mercedes Martinez. Shazza McKenzie vs Tessa Blanchard. You have the SHIMMER return of Kimber Lee (Mae Young Classic's Abbey Laith). Beyond Wrestling are hosting an all intergender show including the fascinating match-up of Toni Storm vs Timothy Thatcher; and all the way through to The More Than Mania After Party as direct after 'Mania is done, WWN takes over Republic NOLA. It's juust one mile from the Superdome for a night of drinking, DJs, guest host Keith Lee and even more Kaiju Big Battel. They could have just booked Ringkampf vs Sekimoto and Sawa and won the weekend anyway, but they've gone all out.
All WWN Events are hosted by the Pontchartrain Center. Check morethanmania.com for more information
Revolution Pro Wrestling
In a move that says a lot about modern Rev Pro, this looks more like a New Japan card with some British wrestlers than vice versa, as we have a tag-team clash between two of NJPW's brightest in The Ace, Hiroshi Tanahashi & everyone's favourite boy, Juice Robinson, taking on current UK indie wunderkinder Mark Davis and Kyle Fletcher, the Aussie Open. There's an insane sounding six-man tag as CHAOS' Will Ospreay, Chuckie T & Rocky Romero take on Kota Ibushi, Shane Strickland & Flip Gordon.
Another potential weekend-stealer in the form of 'Mr Athletic' Jeff Cobb taking on Minoru Suzuki in what's sure to be a grappling masterclass. On the subject of wrestling clinics, Martin Stone takes on the man of 1,000 nicknames David Starr; and all this without mentioning that Tomohiro Ishii is getting a shot at the Rev Pro World Heavyweight championship if he can get it off its current holder, the man of 7,826 holds, Zack Sabre Jr. If this doesn't end up being a weekend highlight, I'll be very surprised.
Impact vs Lucha Underground
A few years ago, Lucha Underground wrestlers were not allowed to appear in any other televised promotion. Things have changed, Impact and Lucha Libre AAA have developed a partnership that is constantly expanding. Many of the Lucha Underground wrestlers are on the AAA roster, wrestlers like Texano Jr., Drago, Pagano, El Hijo Del Fantasma (King Cuerno on Lucha Underground) appeared on Impact Wrestling and Lucha stars Johnny Impact, Taya Valkyrie, Brian Cage and Sami Callihan are now in the Impact roster. At the same time, the X-Division brand of Impact has always been representative of a high-flying Lucha Libre style.
This new situation allows now Lucha Underground and Impact to work together on a unique event at WrestleCon on Friday, April 6, where the stars of Impact will face off the Luchadors of Lucha Underground. Five matches have already been announced, Impact World Tag Team Champions LAX will square off with The Mack and Killshot, Jeremiah Crane (aka Sami Callihan) and Eddie Edwards will try to end their war in an "I Quit match", IMPACT World Champion Austin Aries and Lucha's Fénix will compete against Lucha Underground Champion Pentagon Dark and Aries' #1 contender Alberto El Patron, Knockouts Champion Allie and Taya are also announced to compete.
IMPACT vs Lucha Underground will stream live exclusively on IMPACT Wrestling's Twitch channel.
Other WrestleCon Events
Of course, there is WrestleCon itself, three days, over 200 wrestlers, autographs, signing, panels probably, all that convention goodness with the big climax of the WrestleCon Supershow. Last year's show featured a massive ten-man tag between the teams of Ospreay and Ricochet. This year, we already have Jeff Cobb vs Tomohiro Ishii and Joey Janella vs Penta el 0M. There's the Golden Lovers, Kenny Omega and Kota Ibushi vs Chuck Taylor and a mystery tag partner (after Chuckie killed his best friend, Trent?).
There are shows by The Crash featuring Impact Champion Austin Aries taking on Lucha Underground Champion Penta. This brings us neatly to the Impact vs LU Supershow, which – as well as featuring the two prior mentioned competitors in tag action with partners Rey Fenix and Alberto EL Patron respectively – has some interesting encounters, including an Impact Tag Title match between LA-X and Killshot & The Mack, which promises to be a little bit crazy and a lot good.
There are shows from Wildkat Wrestling; and House of Hardcore; and the Pancakes and Piledrivers Indie Summit; as Wrestling Revolver, AAW and Fight Club:PRO face off. But, to round off a packed schedule, CZW are bringing their own brand of hardcore brawling and technical supremacy with a packed card, including David Starr vs Juice Robinson, Joe Gacy vs Jeff Cobb, and Sami Callihan vs Joey Janella. To top it all off, the CZW Wired and World Championships will be on the line as Ricky Shane Page faces 'All Ego' Ethan Page and MJF faces 'The King of Dong Style' himself, Joey Ryan.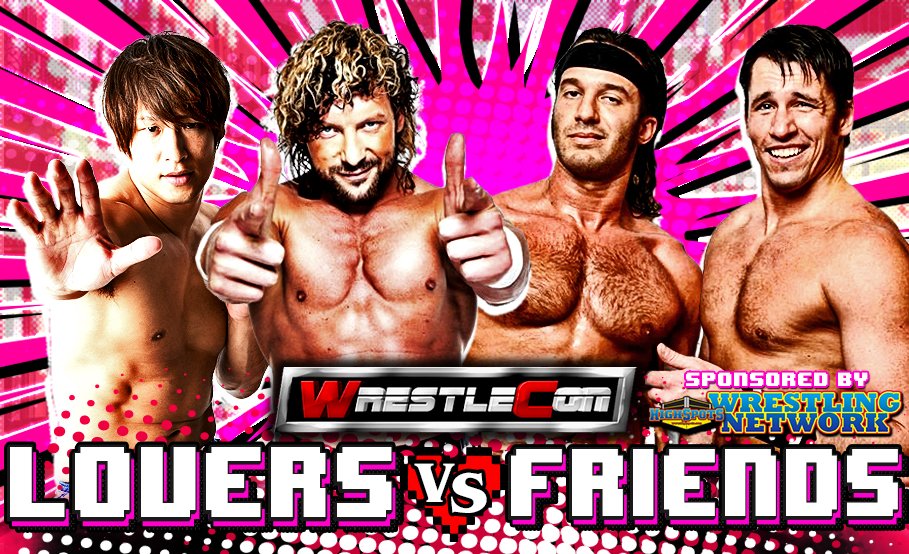 All WrestleCon events are hosted by The Sugar Mill. Check wrestlecon.com for more information.
Ring of Honor: Supercard of Honor XII
The Bullet Club takes centre stage for one of the biggest shows in the Ring Of Honor calender.  We have some promising undercard action with The Briscoes (Jay & Mark Briscoe) vs Jay Lethal & Hiroshi Tanahashi. Tomohiro Ishii vs Punishment Martinez. 'The Last Real Man' Silas Young's Last Man Standing Match for the ROH TV Title vs Champion, Kenny King. Kota Ibushi vs Hangman Page.
There's an ROH Six-Man Tag Title Ladder Match with Champions SoCal Uncensored (Christopher Daniels, Frankie Kazarian & Scorpio Sky) vs Young Bucks (Matt & Nick Jackson) & Flip Gordon. Ever since teaming, we've seen a new side and a new edge to Daniels and Kaz. In the other corner, we have three excellent high fliers that will pull off some amazing spots with ladders involved.
The ROH World Champion Dalton Castle defends against 'The Villain' Marty Scurll. The only man in ROH that can get over against the power of the Bullet Club takes on the very popular Scurll. This isn't just a clash of two strong personalities, but also of two men who've put on great matches in ROH so there's no reason to believe this will be any different. Finally, there's 'The Cleaner' Kenny Omega vs 'The American Nightmare' Cody, a match that's been built to since Cody joined The Bullet Club. The two biggest stars in ROH clash in one of the biggest matches ROH has ever had.  These two will have the crowd in the palm of their hands and deliver a match that cannot be missed.
Ring of Honor is being hosted at the UNO Lakefront Arena. Visit rohwrestling.com for more information.
Other Events
Now, there's going to be any number of signings outside of WWE Axxess, and there'll be live podcast tapings and special events like WaleMania, which if you want to see rapper Wale hang out and chat with MVP, Dave Meltzer and more, is likely to be a damn good time. Of course, there's MatMania, a live podcast taping and concert by rappers Mega Ran and Open Mike Eagle; but really, I wanted to take this time to remind you that there's more to New Orleans than wrestling. Even if you just go down to Bourbon Street or St. Louis Cathedral or Jackson Square, get out and explore the wonderful city. Go out and visit a random hole in the wall, find the best jazz you can, have a Po-Boy (I hear Frady's on Dauphine St. is meant to be excellent), make the most of being in one of the best cities in America. Obviously, go to the wrestling, go meet the wrestlers, go support the thing you love, but don't forget, there's more to life than wrestling.
Contributions by Jozef Raczka, Alex Richards, Steph Franchomme & Paige Brearley