NXT continues to be the real land of opportunity. With new arrivals, call ups to the main roster, and brand-new feuds and storylines it's an exciting time where we will see stars stand out and make an impact thanks to new positions made free on the roster. Today we are going to be looking at five NXT Superstars to watch out for in the coming months from the women's, men's, and tag team divisions!
Candice LeRae
A true fan favourite, Candice LeRae is one of the biggest female signings NXT has seen.  A huge demand from fans to see the indie star signed to the WWE was evident years before she arrived, it was the Mae Young classic last year, however, where fans finally got to see Candice compete properly inside a WWE ring and was the biggest indication that she would be making her way to the company. Now officially apart of the NXT roster, Candice is one of the most exciting prospects the brand has. Years of experience competing not only against women but men mean she has a lot to bring to the table: she's exciting, daring, and moves around the ring like no one else in the women's division, her following is huge, and fans want to see her succeed. She is forever picking up a big reaction from live crowds and there is no doubt in anyone's mind that a big push is awaiting Candice. Expect to see her work fantastic matches with women like Kari Sane and Bianca Blair before finding herself in the women's championship picture where she already has a history with current Champ, Shayna Baszler (who eliminated her from the MYC). Could we be looking at the next NXT Women's Champion?
Lars Sullivan
In terms of who has the most potential, we have to consider Lars Sullivan as a man to take the top spot. While he is struggling to win fans over, he really has come a long way and the future is looking very bright for NXT's monster. It was back at NXT Takeover: New Orleans that we saw Sullivan compete in what was hands down his breakout performance (as part of the NXT North American Championship Ladder Match) and while he didn't walk out as champion he remains a man to really keep your eyes on. He represents an old-school style competitor with amazing strength and power, Sullivan has it in him to become one the most destructive and dangerous superstars in all of the WWE and with only his character work that really needs to some extra attention, it's only a matter of time before Sullivan is at the top.  For now, he is starting to change opinions simply with his in-ring performances and if he can keep this up, brilliant things are sure to come.
Tino Sabbatelli and Riddick Moss
The tag team division has to really watch out for the team of Tino Sabbatelli and Riddick Moss. These guys have it, their characters have been nailed perfectly both coming across very cocky, arrogant and most importantly, convincing. You believe these guys genuinely feel as though they are the best of the best and better than everyone else. They have great bodies, money and success and they make for brilliant heels. We have seen the WWE tease a spit between the two but to be honest, these guys have so much potential that there is no doubt in my mind the pair will be fine competing as singles stars. Moss would be better suited to take on the role as a face which has been the indication we have gotten from the WWE but overall, these guys are entertaining. They can deliver in the ring and all they need is more TV time and bigger opportunities. With NXT losing both SaNitY and Authors of Pain, it creates space for more teams to take the spotlight and I'm confident it will be Tino and Riddick who will steal that spotlight and get us all talking.
Bianca Belair
One of the most exciting prospects in all of the WWE right now comes from the NXT women's division in Bianca Blair. While she hasn't been apart of the WWE for too long she has made one heck of an impact and has turned heads both backstage and amongst the WWE universe. Her unique style has Belair standing out every single time she steps in the ring. It was at the Mae Young Classic Bianca competed in one of the best matches of the entire tournament (against Kairi Sane) but while we haven't seen her compete in many lengthy bouts since her arrival, every time she steps in the ring she impresses and has fans reacting greatly. She's not afraid to go up top and perform a 450 splash that'll leave you speechless, but at the same time, she is a powerhouse. Add in her confidence and brilliant character work and the use of her hair and the WWE have a future champion on their hands.
Velveteen Dream
To round things up today we have the man everyone is obsessed with right now, Velveteen Dream. Here we have a talent who could so easily go on to become one of the biggest and best Tough Enough success stories. At only twenty-two years old, Velveteen Dream is as exciting a talent as the WWhasve on their roster. While he is fantastic in the ring and has worked brilliant matches against the likes of Aleister Black and Johnny Gargano, it is his character work that really does captivate fans on a whole new level. There is no one like him on the roster today: he's unique, exciting, and very very entertaining and that is just it, Velveteen Dream is an entertainer. He's the man that has it all and with stars like Ricochet now apart of the NXT roster there are some exciting prospects awaiting Dream in the coming months!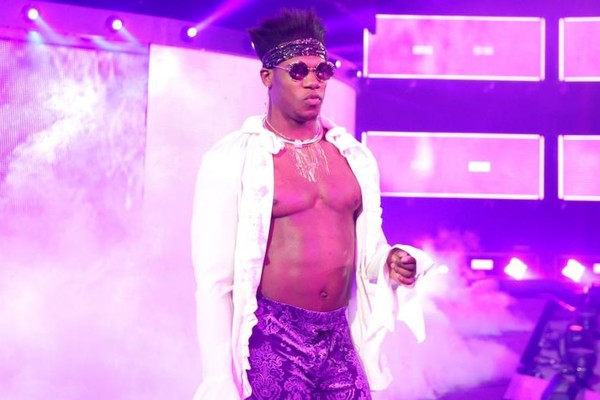 And there we have it, those are just five NXT stars to watch out for! Who would you add to this list? Who do you believe is sure to have an amazing future ahead of them?