It's no secret that everyone in WWE is dating one another (This would be a great time for a 'the company's in bed with the Saudis' gag wouldn't it? – Wrestling Ed.). In fact, it seems to be a product of the larger industry on the whole, as they live such unique lifestyles. Despite the gruelling schedule and unpredictable nature of the job, romance is doing quite well in WWE. Of course, the confirmation that Seth Rollins and Becky Lynch are dating contributes to this stance but if you look at the recent history of power couples in WWE, there's a lot of amazing contenders. So many of these partnerships are just that, true partnerships, not just a wrestler's pretty girlfriend following him around. Today we're celebrating that by power ranking the top 10 power couples.
If you asked us to do this purely on our whims, the aforementioned Rollynch would probably top the list. To avoid recency bias or any other type for that matter, we devised a scoring methodology. That's right, Vulture Hound is taking on DATA JOURNALISM. Get excited.
Points were awarded to each couple accordingly: 5 Points for each Tier 2* championship, including tag titles and mid-card titles; as well as for winning Money in the Bank, the Dusty Rhodes Classic, or the Royal Rumble.10 points for a Tier 1** championship such as the Women's Championship, Universal Championship, etc. An on-screen executive role, Hall of Fame induction, and Grand Slam earn them each 20 points. You can see the exact definitions at the bottom, you nerds.
We're only working with WWE titles per the name of this article. Couples are eligible if they are together at this date and time, and if they have at least one active competitor within the last year.
Some of our beloved WWE couples fell below the 10th place benchmark but still deserve a shout out. Natalya and Tyson Kid got knocked out with 35 points to the 10th place's 40. Lana and Rusev and Zelina Vega and Aleister Black came in at 15 points each. Roderick Strong brings 10 points to his partnership with Maria Shafir, so does Ricochet with Kacy Catanzaro. There's Bianca Belair and Montez Ford, who will surely one day be one of the most formidable power couples. And, of course, there's CM Punk and AJ Lee, who we can't really consider a WWE Power Couple but would have a serious splash if we could.
10. Candice LeRae and Johnny Gargano: 40 Points
Wrestling's cutest couple gets the rub here by just inching out Nattie and Tyson. Although their body of work probably puts them much higher, they haven't reached that full potential in WWE yet. It's a crime that Candice LeRae currently does not bring any points to the equation. Let's hope they have the sense to rectify this soon and crown LeRae NXT Women's Champion.
Until then, Johnny Gargano has to carry the team. Even with only NXT titles, he's done pretty well for himself. His run as NXT Champion wins him 10 points, plus 10 more for the combined NXT Tag Team Championship and North American Championship. Since there are only 3 possible championships for NXT wrestlers, we're giving Gargano due credit (and 5 points) for his Triple Crown.
9. Naomi and Jimmy Uso: 50 Points
Only 10 points stand between the Gargano's and Naomi and Jimmy Uso. Namely, those ten points come from Naomi. As a two-time Women's Champion, she brings an extra 20 points to even out the playing field. Uso does not actually come with any high scoring numbers, he has never won a World Championship. What he does have is volume. The Usos have been tag champions 6 different times, and those add up fast.
There are no extra points for being on Total Divas, but maybe we should've added it to the model because it definitely plays into the influence of the couple. Trinity and Jon are one of the more visible couples in WWE. Their wedding was even featured on Total Divas. Plus there's a great Ride Along episode involving them where the Usos and the Bellas have a twin-off. Highly recommend.
8. Brock Lesnar and Sable: 85 Points
Paul Heyman would probably take issue with Brock Lesnar's placement on this list, but he can take it up with the rubric. Lesnar does bring in a lot of points, 60 to be exact, solely on his reigns with various world titles in the WWE. He also takes home a collective extra 15 for winning King of the Ring, the Royal Rumble, and as of last week, Money in the Bank.
Sable still pulls her weight though, bringing 10 points from a run as Women's Champion. She's also regarded as one of the greatest Divas of all time, so she's got that going for her. The two are married and have kids together, but are never seen on WWE TV as Sable is long retired and you know Brock doesn't go to the Hall of Fame ceremony. Although, with Heyman bringing up Lynch to Rollins, maybe both her and Sable will get their hands dirty as that feud develops.
7. Andrade and Charlotte: 120 Points
Alright, now we're cooking. Charlotte and Andrade are one of the newer kids on the block, as they didn't officially confirm their relationship until WrestleMania this past April. As rumours were spreading about the two of them travelling together and Charlotte learning Spanish, so did excitement about this supercharged couple. Given how successful they both are, we may have expected them to crack the top 5. Unfortunately for them, Andrade hasn't won enough gold in WWE yet to make a dent, even with Charlotte's ungodly number of reigns. Begrudgingly we have to count her minute-long reign as SmackDown Live Women's Championship from Money in the Bank. Her 9 reigns bring 90 points to the table, along with 10 from Andrade's NXT Championship.
Plus, given that Charlotte is a former NXT Women's Champion, RAW Women's Champion, and SmackDown Live Women's Champion, we're giving her credit for that Triple Crown. She also had the Diva's championship but that's rolled into her first RAW Women's Championship win. Charlotte is easily the greatest women's champion in recent memory, and it won't take long before Andrade starts to keep pace.
6. Brie Bella and Daniel Bryan: 125 Points
One of the OG Total Divas couples just barely edges out Tranquilwoo. Brie Bella and Daniel Bryan's wedding was even the star of Total Divas second season finale. They've been presented as a power couple for years, though more so with Bryan as the main event and Bella as his cheerleader. Similar to Andrade, she only adds one title to their score, the Diva's Championship (which yes, we're counting despite any Twin Magic shenanigans.) Meanwhile, Bryan offsets her lower score with multiple World Title and mid-card title runs, plus a 20-point boost for his tenure as RAW General Manager.
This is surely an unpopular opinion, but The Bellas deserve a spot in the Hall of Fame for everything they have done for wrestling. It might be an unpleasant truth, but there's no use pretending that Total Divas didn't bring attention to women's wrestling and ultimately push it forward. Bryan is already a lock for his incredible career, so one day these two could be adding 40 points to their score if they both are inducted.
5. Becky Lynch and Seth Rollins: 145 Points
Much to our surprise, today's hottest WWE power couple only just made the top 5. Perhaps there should be some credence given to the fact that they're holding their division's respective top titles (or two!) at the same time. Right now, they're undeniably the most formidable couple on the roster. It goes back to our initial concept of true partnerships. The Men are probably the most equally matched partners on this entire list, even though by nature of WWE's structure, Rollins brings more points to the table. Looking at Tier 1 titles alone, they come in at an even 40:40. Rollins really rakes in the points with his tag titles and mid-card runs, as well as his Grand Slam status.
Before they were even (officially) dating, they were two of the biggest stars in WWE, the winners of their respective Royal Rumbles, and contending to be the main event in WrestleMania. Lynch won that particular battle and left Metlife Stadium with 2 belts and 20 more points. Rollins, meanwhile, makes good on the moniker "the Workhorse of WWE." Since his debut with the Shield, it's been rare for Rollins to not be involved with a marquee feud unless he was injured. If you want to talk anecdotally about power couples, these two are it.
3. The Undertaker and Michelle McCool: 150 Points
We skip over 4th place and right to the hotly contested bronze medal, which comes in at 150 points. This couple is largely out of the WWE spotlight, but have wrestled a handful of matches over the last year between them. Like most of their peers on this list who performed at a time even more male-dominated than now, Mr 'Taker carries the team onto the podium. That's not to say Michelle McCool isn't pulling her weight. With 2 Divas Championships and 2 Women's Championships, she certainly is bringing some of her own gold to the table. It just pales in comparison to 'Taker, who is one of the greatest sports entertainers of all time.
Interestingly, while he rakes it in when it comes to championship wins, 7 world title reigns plus 7 secondary titles, he gains practically nothing in the other categories. He's won the Royal Rumble once, getting him 5 points. Other than that, we're looking at goose eggs. He has never achieved the Grand Slam, missing a second mid-card title to the WWF Hardcore Championship. He's also not in the Hall of Fame yet as WWE wants to continue to present him as an active competitor. Both he and his wife deserve the honour, so maybe soon they'll push the Mizanins off the podium.
3. The Miz and Maryse: 150 Points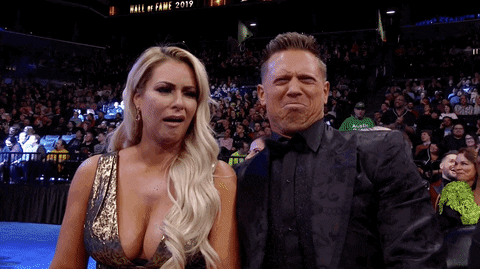 The Deadman and his partner in life will have to share the 3rd place spot with the IT Couple. While no points were awarded for having the world's cutest baby (a major flaw with the model, we know), they racked up a good amount of points based on The Miz's incredible body of work. Honestly, he might be quietly one of the most decorated wrestlers in WWE's history. Just about every title available to him throughout his career hangs on his wall. With his recent momentum and eyes on the Universal Championship, that number could grow even higher in the near future.
Maryse is limited in the same way as many other Diva-era performers on this list. She's crazy athletic, charming and charismatic but the women were such an after-thought that it was hard for her to really bring in serious points. Let us not forget that Maryse got back into the ring mere months after giving birth to the IT baby. That alone speaks to her grit and work ethic and should absolutely be celebrated. Points wise, however, she only comes to the table with 20 from two Diva Championship reigns.
2. Stephanie McMahon and Triple H: 285 Points
The biggest jump in points so far, the McMahon-Helmsley's surpass the Miz's by over 100 points. Still, you might be surprised to see them as only number 2 on this list. If they're the silver, who's the gold? We'll give you a minute to guess while we wax poetic about how great the H family is.
Along with one of the highest point totals, Triple H and Stephanie McMahon have one of the best stories out of anyone on this list. Hunter has such a mind for the creative and Stephanie for the pure business. She's very well educated in the traditional sense, he's had the best education in the ring anyone could ask for. As leaders of this company, in kayfabe and in actuality, they are a great match. To go from a bad marriage storyline to truly being the most influential players behind the scenes, 15 years of actual marriage and three daughters, it's really something.
In terms of points, they really get the job done when it comes to executive roles, of which they have both held positions. Of course, there's their actual importance behind the scenes, but even just on camera, they are easily the most powerful duo. Triple H has had a long and lustrous career, last holding the WWE Championship just a few years ago. Wrestling has never really been Stephanie's main purpose, but nevertheless, she has a title reign under her belt as well.
So, did you guess first place? The answer may surprise you.
1. Beth Phoenix and Edge: 325 Points
That's right, one of WWE most under-the-radar couples comes in with over 300 points. Some may argue they're hardly still active, but Beth has wrestled multiple times over the course of the past year. Plus, she's been trading words with Becky Lynch, which may point to a Championship shot soon. So how did they pull it off?
First off is the Hall of Fame. The Copelands are the only couple to have both husband and wife in the Hall of Fame, getting them 40 points right off the bat. Personally, that tells me we really need to induct more of these underappreciated women. But the way they really made their mark is through secondary titles. Edge brings 100 points through his tag title and mid-card title reigns, the most of any team. As one of the greatest tag team wrestlers of all time, he racked up 60 points with Tag Team Championships alone.
Beth is also a highly accomplished wrestler in her own right, though her opportunities were nowhere near as plentiful. The Glamazon is a four-time champion, winning both the Women's and the Diva's Championships throughout her time. Had the Women's Tag Team Championships been introduced five years earlier, the Divas of Doom (herself and Natalya) would surely have won those too.
Here's to all the WWE Power Couples proving that all is fair in love and war when the war takes place inside the squared circle. Which couple do you think should've reigned supreme? Who do you think will make a play for the podium in the coming years? Let us know @SteelChairMag
**Tier 1: WWE Championship, Universal Championship, NXT Championship, NXT Women's Championship, RAW or SmackDown Live Women's Championship, WWE/F Championship, Diva's Championship
*Tier 2: Tag Team Championship, NXT Tag Team Championship, King of the Ring, United States Championship, Intercontinental Championship, European Championship, North American Champion