Hello everyone and welcome to the 29th annual G1 Climax. This 20-man, dual-block, round-robin tournament is without a doubt, the flagship event in the New Japan calendar. We started the tournament here, a week before the rest of the tournament at the American Airlines Center in Dallas, Texas, USA! A not-entirely packed crowd gathered to watch some top-class wrestling. But you know what, you just want to know if this was worth your time so let's get into it: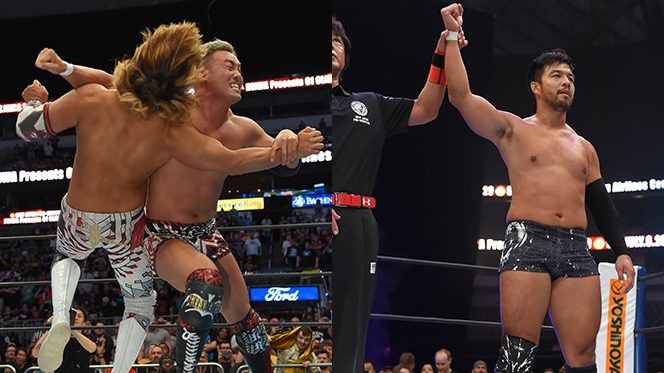 Results:
Guerillas of Destiny (Tama Tonga & Tanga Loa) def. Roppongi3k (SHO & YOH) // Tonga pinned SHO off a Super Powerbomb
Jeff Cobb & Ren Narita def. Tomohiro Ishii & Shota Umino // Cobb pinned Umino off Tour of the Islands
CHAOS (Hirooki Goto & YOSHI-HASHI) def. Jay White & Chase Owens // Goto pinned Owens off a GTR
Toru Yano, Jushin Thunder Liger & Juice Robinson def. Los Ingobernables de Japon (Tetsuya Naito, Shingo Takagi & BUSHI) // Yano pinned BUSHI with a roll-up
G1 Climax Block A Tournament Match: Lance Archer vs Will Ospreay
This is how you open tournament action. For 18 minutes, the two men went non-stop delivering a lot of good work, taking their New Japan Cup match, building upon it and delivering something much better. There is no better standard structure for a wrestling match than the David vs Goliath story and this one knew exactly how to sell it to make Ospreay look as resilient as anyone but keeping Archer looking a motivated monster.
Ospreay has worked heavyweight style for a while now whether it be the NEVER Openweight title defence against Jeff Cobb, his New Japan Cup run or his encounter with Katsuyori Shibata a few years back but it was nice to see him looking so at home here immediately, even if some of his high spots felt like they took too long to set-up, affecting the flow of the match. But this wasn't about Ospreay, this was Archer's match and the Dallas native clearly relished getting to make his hometown fans hate him. I'm excited to see where both of these men go from here. Archer won via pin off the Claw Slam.
Winner: Lance Archer
G1 Climax Block A Tournament Match: Bad Luck Fale vs EVIL
After the near-breathless opener, this was going to suffer in comparison but I was pleasantly surprised by how much there was to enjoy from this encounter. The Goth Hoss, EVIL, is one of the more underrated mid-card face workers and he really managed to get the audience onside here working against a motivated Fale, they produced an encounter that was exactly what you'd want for most of it: big lads hitting each other.
I'm sure there are going to be people who will be disappointed with the finish to this match as EVIL introduced chairs and after some brawling, took a low blow and a chair to the neck before Fale hit the Bad Luck Fall for the pin but honestly, by Bullet Club standards, I'm just grateful for the match having an actual finish. By no means is this a MOTY contender but frankly, if every match was, it would be exhausting. Still, good and fun stuff.
Winner: Bad Luck Fale
G1 Climax Block A Tournament Match: SANADA vs Zack Sabre Jr
I wasn't at the Rev Pro 'Ungovernable' show that was recently held in Manchester but from what I'd heard, the main event between these two was good but never seemed to approach being great. So, much to my delight, this was superb. Zack was at his grapple dickhead best and SANADA, having fully embraced his new role as wrestling's Disney prince, managed to not only keep pace with Sabre Jr but showed that there are always new tricks to be learnt as Sabre pushed him to find new ways into the Paradise Lock by constantly escaping it. An early sequence as the two men traded pins was particularly thrilling.
The finish, as SANADA out-Sabre'd Sabre locking in a Prawn Hold for the pin was beautifully done and the perfect capper to a piece of near-flawless technical work that proceeded it. While, obviously, I'm never fully happy seeing my Socialist Octopus King lose, this was a great spirit measure for the tournament as it goes on. I'm not always that into people making their opponent work their match instead of finding a collision between the two but Zack makes it work better than practically anyone. Watch this!
Winner: SANADA
G1 Climax Block A Tournament Match: Kota Ibushi vs KENTA
Goddamn, I've missed KENTA. Not just while he's been away but since he became Hideo Itami, I've missed KENTA and it does seem, he's back. There was never going to be a better homecoming match for the former Ace of NOAH as Ibushi is arguably the only man as good at pure striking as KENTA, well beyond perhaps the man that watched on as this destruction unfolded, Katsuyori Shibata. Last year I described Ishii v Ibushi as perfection in combat and this might be a step or two below that but it was still a brilliant slice of brutality.
The story was simple, the two of them just tried their hardest to be the first man to kick the other's head off. With complaints about too much 50/50 booking in modern wrestling, this was the book on how to do it, at no point until KENTA got the 1,2,3 was it clear who was getting the win here, even though the head told that this was one man's big return, Ibushi was an uterly convincing opponent, matching KENTA strike-for-strike. While KENTA is back, I don't know whether he is fully the killer that left for Florida four years ago as some moments, such as the finish, came across as a little restrained, but he's well on his way to finding that magic. When he eventually does, God help us all. KENTA got the pin off a Go to Sleep.
Winner: KENTA
G1 Climax Block A Tournament Match: Hiroshi Tanahashi vs Kazuchika Okada
It tells you something about these two that this seems like a disappointing outing by their standards as if I had to give it a numerical rating, it would only be a 7 or 8/10. Tanahashi is, as almost always, working through injuries because sometimes, the man gives too much back to the industry that has tried to break him repeatedly and in new and more inventive ways. Okada was being respectful that his greatest opponent wasn't at 100% but the thing is, even these two at 75%, are still better than 90% of everything else (work out that maths, Steiner).
With 13 previous singles encounters to call back to, every move felt like it had history to it, especially as both men were five wins apiece (plus three draws). I have to give special props to Okada here, for a man who has too often been accused of working too cool, he really played this one with the desperation of a man who was about to be eliminated from the tournament and this was just his first match. More than some of their encounters, this one did feel a little bloated, I understood the story denoted this mad rush to try and put the other away before the clock ran out but there seemed to be a hesitation to get up through the gears too quickly in the middle. But you're never going to hear me completely badmouth this combination and with some of the most sublimely performed near-falls I've ever seen, this was another essential chapter in the seemingly never-ending story of the Ace and the Rainmaker.
Winner: Kazuchika Okada
NOT A BAD MATCH ALL NIGHT! That is my bold declaration. The CHAOS-Bullet Club tag match was somewhat missable but not even close to bad. A great start to what could be an all-time tournament. Expect next week that Robinson-Takagi & Ishii-Cobb are going to kick so much ass there will be none left to kick. Look forward to it, true believers.
Block A Standings:
Bad Luck Fale – 2pts (1-0-0)
Kazuchika Okada – 2pts (1-0-0)
KENTA – 2pts (1-0-0)
Lance Archer – 2pts (1-0-0)
SANADA – 2pts (1-0-0)
EVIL – 0pts (0-0-1)
Hiroshi Tanahashi – 0pts (0-0-1)
Kota Ibushi – 0pts (0-0-1)
Will Ospreay – 0pts (0-0-1)
Zack Sabre Jr – 0pts (0-0-1)