Former champion and one of the longest-serving female WWE superstar today, Natalya has gone underrated and underutilized throughout her career. Coming from the legendary Hart family, Nattie has been a key figure within the WWE Women's division but has not always had the appreciation and booking she deserves. Despite this Natalya has had a couple of championship reigns and standout matchups that have shown just how experienced and skilled she really is and with that in mind, today I am going to be taking a look at some of Nattie's greatest WWE matches of all time honoring the Queen of Harts.
Vs. Charlotte Flair (NXT Takeover)
While Natalya had competed in a few solid matches prior to this one it was her first encounter with Charlotte Flair back at NXT Takeover in 2014 that had me completely invested and amazed at just how good Natalya is! This was the longest match Nattie had been apart of up to that stage of her career and never had we seen her compete in a match that showcased just how good she really is and the depth of her skills! Her experience here helped bring out the best in Flair who at the time was so incredibly new to the scene and Nattie's move set was on clear display as she showed the world why she has been one of the best female wrestlers in the company today yet we didn't truly know it! There was great storytelling here between two women who come from big wrestling names and with Ric Flair and Bret Hart at ringside there was even more intensity and the match felt like the biggest of the night! It may have been a predictable end result, but this match was career-changing for Natalya and gave fans a clear insight into what Charlotte Flair was about to bring to the WWE.
Vs. Paige  (NXT 2014)
Paige and Natalya have met in the ring several times throughout their career and the chemistry is clear between them, however, it's their first in-ring encounter during an episode of NXT over six years ago which must go down as their best collision! Paige early into her WWE career picked up a huge victory over veteran Nattie in what was a fantastic match up! Both women's experience in the industry and coming from a wrestling family meant their similarities were on display and we saw a lot of mat work and submission holds. This was one of the first times I really enjoyed a match involving Natalya and we really got to see her veteran role and fantastic wrestling skills come to light and play an important role. The match was a decent length, long enough to really enjoy, we witnessed Paige have a key match up during her reign as champion against a main roster star and the bout was longer than what we were used to seeing for the women's division at the time. This is one of the best displays of both women's technical skills, their styles clearly complemented each other and their shared experience was evident from the get-go. I do believe they could have had an even better and stronger match up but this was a highlight in the careers of both women yet one so many forget.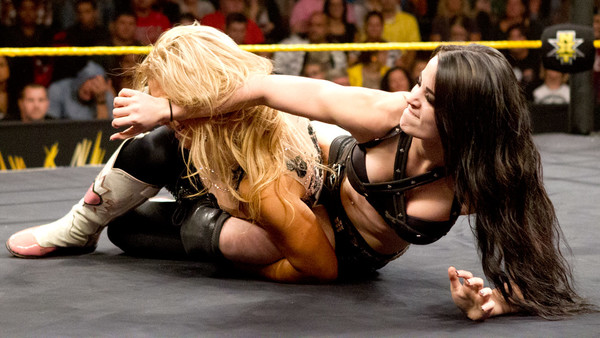 Vs Michelle McCool
Okay, so while this match was under six minutes this was a solid encounter between Michelle McCool and Natalya to crown the first-ever Divas Champion. Now, its clear, that if these two would have been given at least another ten mins they would have provided something fantastic but this is a prime example of how badly the female talented were treated and booked at this time. Despite that, however, the two did the best they could with the time given and what we saw was two standout women of the time, two women at the top who really did want this win. We saw a focus on submission holds and some strong spots that made the match feel even more worthy of being on PPV. I really do wish this match was longer and while I can see why there would be other bouts many would include in this list instead of this match the two have to be commended for what they were able to do in such a short space of time.
Vs. Charlotte Flair (Payback 2016)
Natalya has shared the ring with Charlotte Flair many times during her career so far and picking the best isn't very easy but the main roster collision between the pair I had to mention today was the Payback championship bout taking place back in 2016. Fans were already aware of what these two could do when they share a ring and so the expectations were high! Now, I didn't feel as though this match had the same feel as their first encounter but we saw a brilliant display of both women's wrestling skills and it was a clear showing of how far Flair had come since their first meeting. The screw job ending was a touch that the match benefited from and in ways needed for things to continue and for something different to go down between them. Of course, it all made sense, the match had some fantastic content that again showcased how underutilised Nattie is and while this match can be so easily forgotten because of how many bigger bouts Flair has been apart of this is one to go back and re-watch for it really does have everything you could have asked for.
Vs. AJ Lee (Main Event 2013)
AJ Lee will forever go down as one of the best champions of that time in the WWE and her role within the evolution of women's wrestling is clear! Despite not having the timing on her side she did manage to have some great matches and storylines during her time with the company, one of my personal favourites comes from her Divas championship defence during an episode of Main Event in the UK back in two thousand and thirteen. Natalya had an evident power advantage here but the basic wrestling throughout had both women looking very equal! Nattie's experience again came into play finding ways to outsmart the champion, ease out of submission holds and counter moves several times. This was one of the bouts where we didn't see Natalya smile or play to the crowd and the match felt like it meant a lot to both women. The two had a great commitment to the WWE and pro wrestling and their performance on the night gave hope to a division that was still struggling massively! The bout was longer than most women's matches at the time and while the DQ ending was disappointing this was a match that had a lot going on in the time provided.
From collisions with Asuka and Sasha Banks to a falls count anywhere bout against Nikki Bella, there were, of course, other matches we could have spoken about today but what we can take away from this is just how damn good and underrated Natalya is. I don't see the WWE pushing her to the stars anytime soon but if they can at least book her in lengthy matches against the right superstar, then we are sure to some brilliant match-ups and career defying moments for up and coming talent not to mention collisions sure to remind us all while Natalya is future Hall of Famer worthy!
All pictures courtesy of WWE.com